Nuisance Ordinance Public Hearing Notice
View Nuisance Ordinance Public Hearing Notice
Invitation to Bid for Secure Routes to School Crestone Trail
View

Secure Routes to School Crestone Trail Bid
San Luis Valley completes Hazard Mitigation Plan update
(March. 13, 2023) The San Luis Valley Region and its six participating counties (Alamosa, Conejos, Costilla, Mineral, Rio Grande, and Saguache) are in the final stages of updating their Hazard Mitigation Plans. A Hazard Mitigation Plan analyzes vulnerabilities to natural hazards and identifies mitigation actions that can be taken to minimize property damage and public safety risks. An up-to-date Hazard Mitigation Plan is required under the Federal Disaster Mitigation Act of 2000 to be eligible to receive certain federal disaster assistance and grants for hazard mitigation projects. These plans must be updated every 5 years. The updated plan sets priorities for mitigation projects in the San Luis Valley region for the time period of 2023-2028.
The planning process began in February 2022. It has resulted in an update to each county's existing Hazard Mitigation Plan into one cohesive, regional plan. This update combines the six county Hazard Mitigation Plans drafted independently in 2017 & 2018 into one unified region-wide plan. The process followed a methodology that adheres to federal guidance. It consisted of two levels of planning teams; a coordinating Planning Team made up of the County Emergency Manager Coordinators, and six County Planning Teams consisting of local government representatives – one for each county. Every municipality within each county was invited to participate.
A virtual public workshop was held on January 4th, 2023, to introduce the updated plan and mitigation strategies. Following the workshop and public comment period, the plan was then submitted to both the State of Colorado and the Federal Emergency Management Agency (FEMA) for their review and approval.
The Saguache Board of County Commissioners will adopt the updated Hazard Mitigation Plan on March 21, 2023.
Read the updated Hazard Mitigation Plan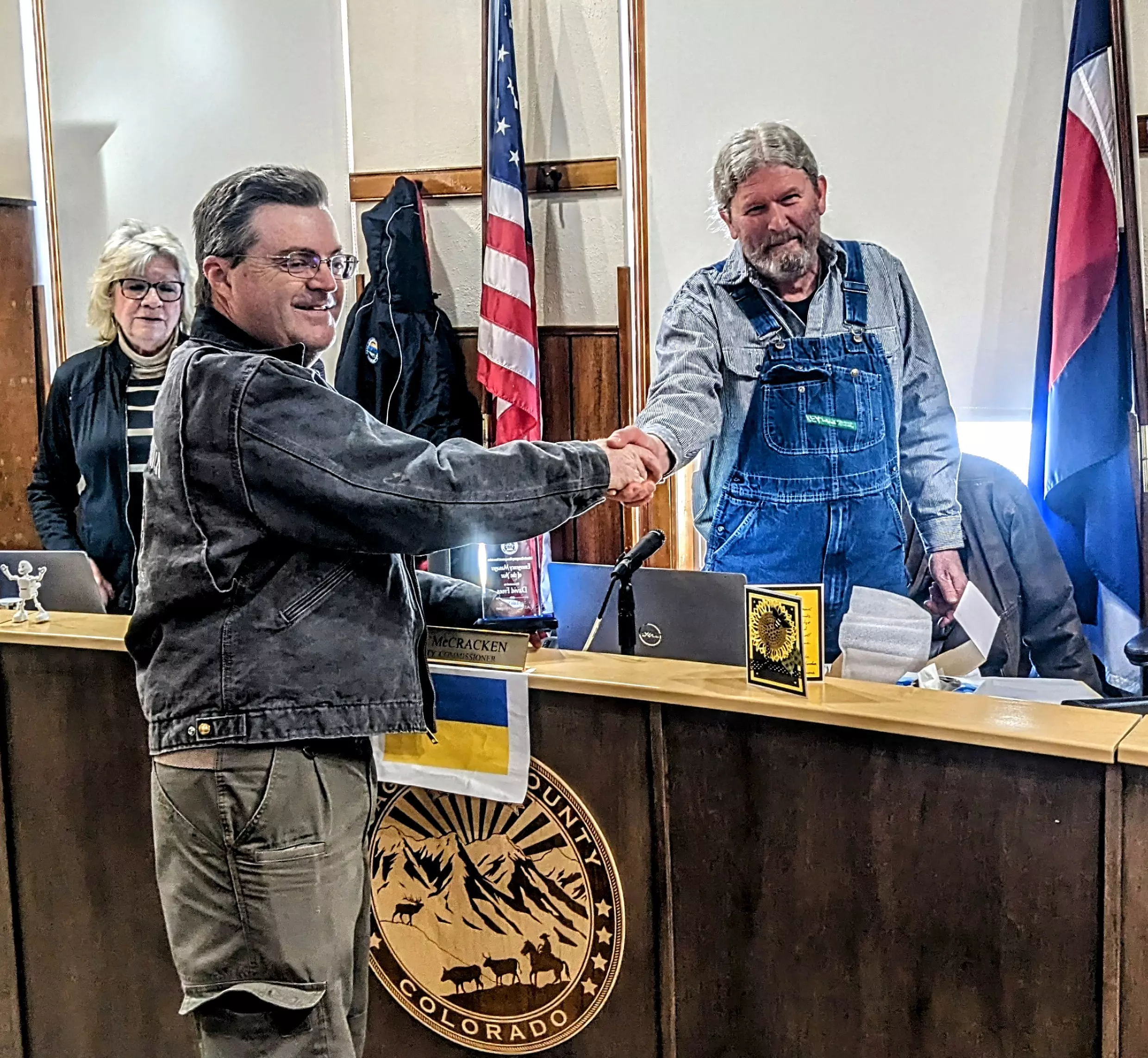 David Frees Awarded "Emergency Manager of the Year"
(Feb. 21, 2023) The Saguache County Board of Commissioners, on behalf of the Colorado Emergency Management Association (CEMA), presented David Frees the 2022 "Emergency Manager of the Year Award" for the San Luis Valley region. David Frees has served as the Saguache County Office of Emergency Management's Deputy Director since 2020. In that time, Mr. Frees drastically improved the emergency management program for Saguache County and helped coordinate one of the most robust emergency management programs in the region.
The Colorado Division of Homeland Security and Emergency Management's Field Manager, David Osborn, commented; "Mr. Frees is a team player and robust community advocate. Saguache County was the new host for the Live Nation Multi-day Music Festival which included Headline Music Performers. This event was the single largest pre-planned incident ever experienced within the six-county San Luis Valley Region. Because of Mr. Frees' intimate involvement in the planning and operational response to this event, we enjoyed excellent situational awareness that contributed significantly to the lessons learned and accomplishments. We would like to thank Mr. Frees for his professionalism, leadership, and strong emergency management support."
Last year, David was also awarded the Colorado state-wide "Mike Gelski Award for Outstanding Volunteer Achievement" by CEMA.
The Saguache County Board of County Commissioners are accepting scholarship applications for graduating seniors who will be graduating high school in 2023.
Commissioners will be awarding graduating seniors' college scholarships that will be paid through the Marijuana Excise Tax funds. 
Scholarships may be used at a trade school, college or university but you must reside in Saguache County to apply and possibly receive scholarship funds.
Applications are due by April 14, 2023 and are available through our website at www.saguachecounty.colorado.gov to download the application or by contacting Wendi Maez at 719-655-2231 or by email at wmaez@saguachecounty-co.gov. 
Avian Flu: Be Aware but Not Alarmed
Highly Pathogenic Avian Influenza, HPAI for short, has now been detected in the SLV according to a recent article by Colorado Parks and Wildlife (CPW), and more wild bird mortalities have been reported since the announcement.  This is a sad situation, and we want the public to be aware but not alarmed.  Unless you are a commercial or backyard poultry producer, or a waterfowl hunter, this will most likely have no effect on you. Transfer of the virus to humans is extremely rare.
If you are a poultry producer,
now is the time to take extra precautions to ensure your flock remains safe.
Veteran Services - Satellite Offices
Veteran Services has new satellite office locations & hours:
Center - 2nd Thursday of each month. 9 am to 4 pm at the Department of Social Services, 220 Worth Street, (2nd & Worth Street, NW corner of the building, street side), Center, CO. 
Crestone - 3rd Thursday of each month. 9 am to 12 pm at the Crestone Mercantile, 191 East Galena Ave, Crestone, CO.
Moffat - 3rd Thursday of each month. 1 pm to 4 pm at the Mirage Trading Company, 17359 N. Hwy 17, Moffat, CO,
CALL (719) 655-2680 to make an appointment outside of these business hours.
Resolution 2021-07 Rescinded
Saguache County Sheriff App
The Saguache County Sheriff's Office now has a FREE mobile application to help improve communication with residents. This app allows residents to connect with the Sheriff's Office and the Town of Center's Police Department to report crimes, submit tips, and provide the community with the latest public safety news and information. This app is not intended to be used to report emergency situations. In an emergency call 911.
  Download on the App Store (iOS)