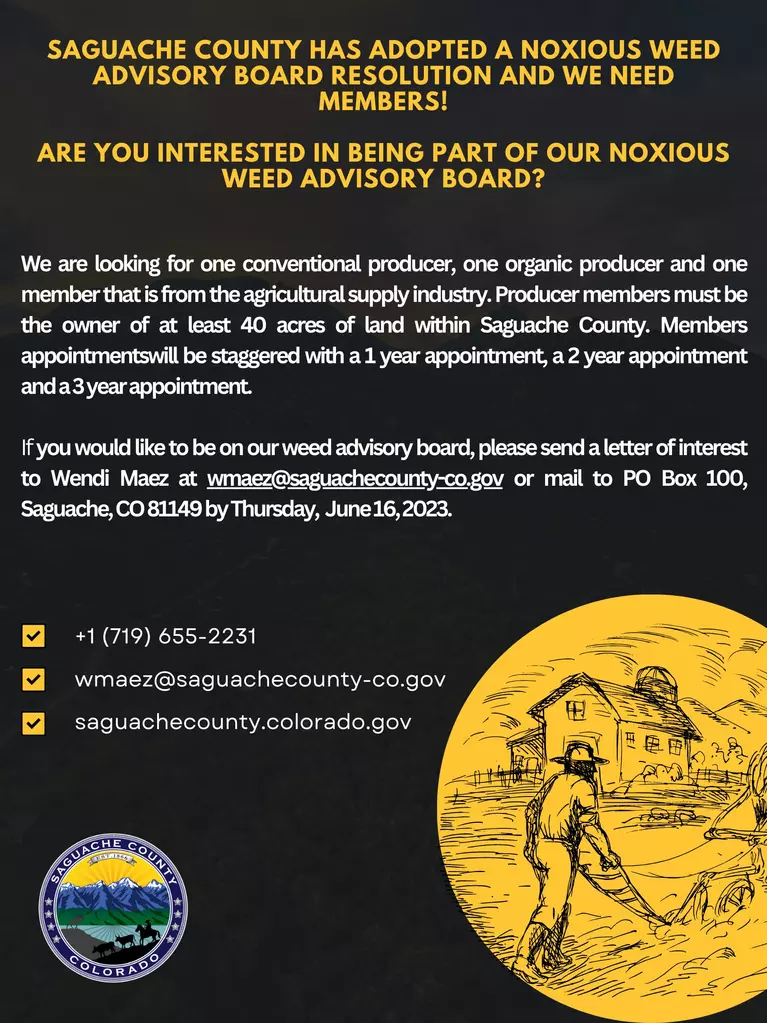 SAGUACHE COUNTY HAS ADOPTED A NOXIOUS WEED ADVISORY BOARD RESOLUTION AND WE NEED MEMBERS!
ARE YOU INTERESTED IN BEING PART OF OUR NOXIOUS WEED ADVISORY BOARD?
We are looking for one conventional producer, one organic producer and one member that is from the agricultural supply industry. Producer members must be the owner of at least 40 acres of land within Saguache County. Members appointments will be staggered with a 1 year appointment, a 2 year appointment and a 3 year appointment
If you would like to be on our weed advisory board, please send a letter of interest to Wendi Maez at wmaez@saguachecounty-co.gov or mail to PO Box 100,
Saguache, CO 81149 by Thursday, June 16, 2023
Saguache County Preserves the Public Health, Safety and Welfare of County Citizens
Nuisance Ordinance Adopted….
The Board of County Commissioners adopted the Saguache County Nuisance Ordinance Tuesday, April 18, 2023, following several readings and opportunities for public comment.
It is the intent of the BOCC to make sure that Saguache County constituents have every opportunity to be educated about how this new ordinance affects them and to be aware of resources available to them.  In addition, it is the intent of Saguache County Code Enforcement and Saguache County Land Use Department to work cooperatively with landowners and/or other responsible parties in a combined effort to beautify our county.
Five educational sessions will be held throughout Saguache County during the month of June as follows: 
Tuesday June 20th - 5:00PM at the Center Kiwanis Club Building located at 510 South Broadway in Center, CO.
Wednesday June 21st – 5:00PM at the KV Estates Clubhouse
Monday June 26th – 5:00PM for Town of Sargents at the Tomichi Trading Post located at 71420 US Hwy 50.
Tuesday June 27th – 5:00PM at the Baca Grande POA Hall located at 68575 CR T
Wednesday June 28th – 5:00PM at the Saguache County Road & Bridge Conference Room located at 305 3rd Street in Saguache, CO.
The Board of County Commissioners of Saguache County concludes that providing a comprehensive mechanism for identifying, abating, and compelling the removal of rubbish; including trash, junk and garbage is necessary in order to preserve the public health, safety and welfare of the citizens of Saguache County.  Nuisances, if not controlled and eliminated, can result in visual blight, incompatibility with existing land uses, attraction of disease infested rodents and other vermin, fire and other hazards, depositing of hazardous or toxic substances in unapproved sites, and air, noise, light and water pollution.  The County intends to remedy and eliminate the existence of nuisances. 
Public Notice Forest Reserve Title III Proposed Project
The Saguache County Board of Commissioners is soliciting public proposals to spend Forest Service Title III funds for any projects that will be used for projects that adjoin US Federal Property for Fire Wise Programs. Written proposals must be received by 3PM on THURSDAY, JULY 13, 2023.  
Written project request must be submitted to the Saguache County Administration office 505 3rd Street or emailed to wmaez@saguachecounty-co.gov, or can be mailed to PO Box 100, Saguache, CO 81149.  The deadline for submittal is THURSDAY, JULY 13, 2023 at 3PM.
Public Notice - Nuisance Ordinance Education and Outreach
PUBLIC NOTICE
The Saguache County Land Use Office will be holding a series of education / outreach for the public on the passage of the Saguache County Nuisance Ordinance that was recently passed by the Board of County Commissioners. Dates, time, and location will be as follows;
June 20, 2023 – 5:00PM Center Kiwanis Club of Center – 510 S Broadway St., Center, CO  81125
June 21, 2023 – 5:00PM KV Homeowners Association – 26415 Woodward Ave., Moffat, CO  81143
June 26, 2023 – 5:00PM Tomichi Creek Trading Post – 71420 US-50, Sargents, CO 81248
June 27, 2023 – 5:00PM Baca Grande Property Owners Association – 68575 Co. Rd. T, Crestone, CO  81131
June 28, 2023 – 5:00PM Saguache County Road and Bridge – 305 3rd Street, Saguache, CO  81149
To view the Saguache County Nuisance Ordinance that was passed, you can go on the Saguache County Website at www.saguachecounty-co.gov or pick up a copy at the Saguache County Land Use Office, 505 3rdStreet, Saguache, CO  81149.
Saguache County Seeks Junk Removal Businesses For Saguache County Residents
Saguache County is seeking individuals or businesses that would like to be added to our resource list to assist Saguache County citizens in need with junk removal on their property.
The list will be made available to citizens of Saguache County through the Saguache County Land Use office. If you would like to be added to the list or if you would like to obtain this list for junk removal, please call the Saguache County Land Use office at 719-655-2321 or by emailing landuse@saguachecounty-co.gov.
Resolution 2021-07 Rescinded