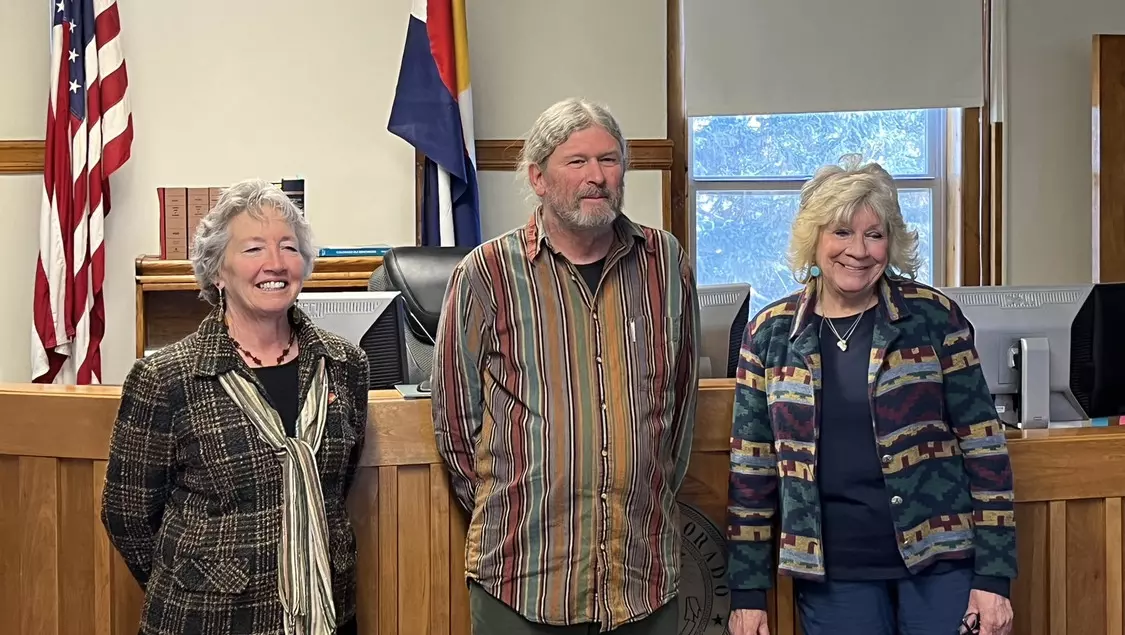 Liza Marron, Tom McCracken and Lynne Thompson 
Mission of the Commissioners
The county is an administrative unit of the Colorado state government wherein the commissioners work with the various state agencies and the Governor's office. Since the state statutes define the scope and limit of county authority, the commissioners suggest, support, and oppose legislation depending on the needs and interests of Saguache County. The commissioners are directly responsible for the following departments: Road & Bridge, Social Services, Public Health, Land Use, and General Administration. The Elected officials (Sheriff, Assessor, Treasurer, County Clerk and Coroner) are responsible for their departments, however, the commissioners have authority over their budgets. The commissioners also have final authority on all land use and land planning concerns, utilizing the recommendations of the planning commission. They also appoint citizens to various boards, committees and councils to advise in the running of the county The commissioners are available to work with Saguache County residents on decisions that affect their lifestyle, livelihood or finances. At other times of the year, especially during the annual budget preparation, the commissioners will schedule additional meetings to meet the needs of the business at hand. The commissioners are open to phone calls, visits and letters from concerned residents of Saguache County.
Ex-Parte-Outreach & Education
Please note that it is inappropriate to personally contact individual County Commissioners or Planning Commission members while an application is pending. Such contact is considered Ex Parte communication and will have to be disclosed as part of the public hearings on the matter. If you have any concerns, you should contact staff, write a letter or present your concerns at the public meeting so your comments can be made part of the record.
Contact the Saguache County Commissioners